Twin Ponds Catahoula Bulldogs , American Bulldogs and American Bandogs
The Cat/Bull ??
The Catahoula Bulldog
History: The Catahoula Bulldog has been around for close to 100 years. It was originated by farmers and hunters who wanted the strength of the American Bulldog and the intelligence and savvy of the Catahoula leopard dog. See history of both the American Bulldog and the Catahoula leopard dog for a better idea! In the mix they also got some great by products like the Catahoula Bulldog is a wonderful family companion and is awesome with kids of all ages. Plus they are beautiful as well! Colors and Coats Available: The coat of a Catahoula Bulldog is short and straight and needs little grooming attention. The coat can come in an array of beautiful colors the most famous being the merle or leopard colors blue, red, tan, gray and silver. There are no two Catahoula Bulldogs alike in coat or eye color. Eyes can be brown , blue, aqua, green, gold or a combination of any of these colors in one eye which is called 'Cracked" or eyes two different colors altogether!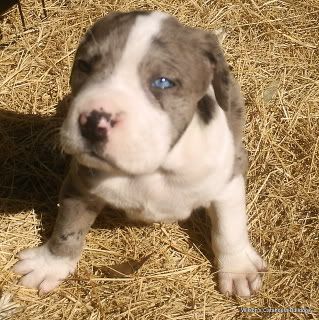 Average Heights and Weights: There is usually alot of difference in size between the males and females. Females are the smaller of the two weighing anywhere from 45 lbs to 65 lbs. Males are the larger weighing between 70 and 110lbs. Grooming and Special Care Needed: The Catahoula Bulldog needs very little attention in the grooming department which is usually written off to the fact that the Catahoula leopard dog has some red wolf in their background. Regular check ups shots and wormings are usually about all there is to taking care of a Catahoula Bulldog who believes he is supposed to be taking care of you!
Health Concerns: The Catahoula Bulldog has very little in the way of health concerns . Hip dysplasia is sometimes seen in the American Bulldog and the Catahoula so it's best to have your Catahoula Bulldog's hips x-rayed or 'Penn hip tested around the age of 2 years. You can also have their ears (hearing) tested and Certified and their eyes tested and certified however if you do not plan to breed your dog these things are not needed unless you see indications of a problem. These dogs live an average of 13 to 15 years .They are pretty tough dogs! Average Life Span: These dogs live an average of 13 to 15 years. They are pretty tough dogs! Personality/Temperament: The Catahoula Bulldog needs a job. It needs something constructive to do. They are high energy dogs and do well with families with children. Lots of exercise and a 'job' whether it be babysitting or fetching a stick is an important part of a Catahoula Bulldogs life. The female of the species although much smaller is the more dominant of the two and this is attributed to the Catahoula side also. They are very playful and silly even around their 'people' but wary and guarded around strangers so it is very important to socialize your Catahoula Bulldog with other people, so he will be at ease with strangers.
Once you have had the unconditional love of a Catahoula Bulldog you will never want another breed of dog